2024: Unparalleled Discovery Across the Globe
With three extensive expeditions, 11 maiden ports, and over 100 destinations, the remarkable 2024 Journey raises the bar—even by The World's exceptional standards. January begins with the highly anticipated expedition to Antarctica, South Georgia, and the Falkland Islands, delving deep into the region's rugged natural beauty. The Ship then sails to the sophisticated South American countries of Argentina and Uruguay before landing in Brazil during Carnival. Crossing the Atlantic to Africa, disembark for The World's first-ever stop in the remote Tristan da Cunha archipelago, a UNESCO World Heritage Site, located midway between southern Africa and South America.
In March, The World traces the eastern coast of Africa, experiencing rich cultural traditions in Tanzania, Kenya, South Africa and Mozambique. Forge inland on one of many overland journey safaris for an opportunity to encounter the diverse wildlife of the region. Continue east into the Indian Ocean, savoring the idyllic ports of the Seychelles, Maldives, and Sri Lanka. The Southeast Asian adventure continues with an intoxicating mix of timeless traditions, culinary experiences, and lively urban centers in India, Myanmar, Thailand, Singapore, and Malaysia. After visits to Cambodia and Vietnam, set sail for legendary Hong Kong and Shanghai, China, and fashion-forward Seoul, Korea. In Japan, enriching immersion awaits in historic Nagasaki, cosmopolitan Kobe, and dazzling Tokyo. Then explore the shores of Taiwan, the Philippines, and Indonesia, before embarking on an expedition into Australia's spectacular last frontier: the Kimberley region. The year's third expedition immediately follows – a deep exploration of Papua New Guinea and the Solomon Islands, revealing smoldering volcanoes, lush mountains, and reefed islands teeming with sea life.
Spend October in the incomparable lands and waterways of New Zealand before sailing into the dreamscapes of the South Pacific and the vibrant Hawaiian Islands of Maui, Kailua-Kona, Oahu, and Kauai. In December, continue east toward Mexico's alluring west coast, as The World lands in Puerto Vallarta, Mazatlán, and La Paz before ringing in the New Year in the one-and-only Cabo San Lucas.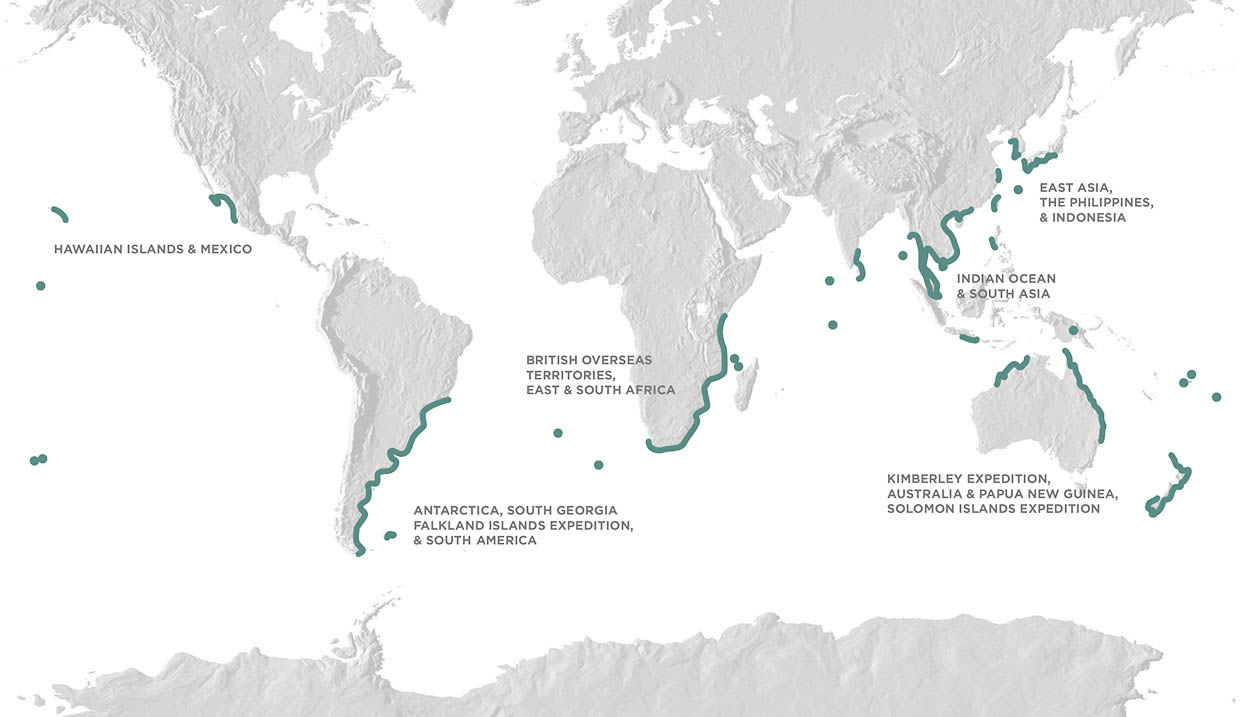 Determine whether life aboard The World is the right fit for you. Talk to one of our Residential Advisors today to learn more about this unique lifestyle, details of upcoming Journeys and Expeditions, and ownership opportunities.